I'm an Old Woman and I Shall Plant Purple and a red Flower that doesn't go.
Double Larkspur and a Red and Purple Poppy
Today I planted cuttings of purple alternanthera
around Reine des Violettes rose. Last year
the alternanthera grew huge, really
complimenting the rose.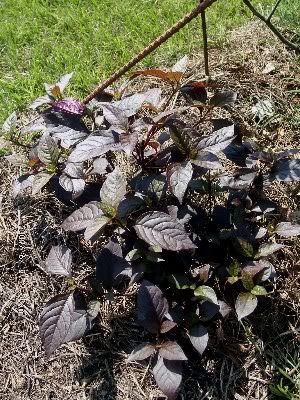 In bright sun, the alternanthera gets really,
really dark, this from last summer.
I planted 4 rooted boxwoods, rooted by layering. I really don't need any more box to prune, but in winter, bright green box really makes a boring bed more interesting. Two were a bonus when I dug another. Life in the garden is frequently full of surprises. I moved a redbud seedling that was too close to the front walkway. Redbuds are such nice little trees.
Violas are starting to die from the heat and sun. I pulled all the wilty ones that didn't perk up after I watered them on Saturday night. I'll need lantana to go there. It would be quicker to buy plants, cheaper to start dig some pieces from the front of existing lantana and grow on in pots for a few days so the roots are stronger when they are planted out.
Poppies are shedding petals quickly. We are hopeful of at least a shower of rain tonight or tomorrow.