We've been under a tornado watch for most of the day. Thundershowers pass through coming from the southwest. I'm trying to direct them toward NC for everybody who asked for rain and cooler.
Pine blooms cover the ground. I had to rake them from the bird bath. I hope that means the worst of pollen came down with them.
The nitrogen in the air from lightning makes the trees and shrubs all green and blousy. Many of the blooms are gone from Loropetalum. Some of them now have deep purple foliage; the rest are olive green.
Azaleas are opening but not ready for pics of the real show just yet.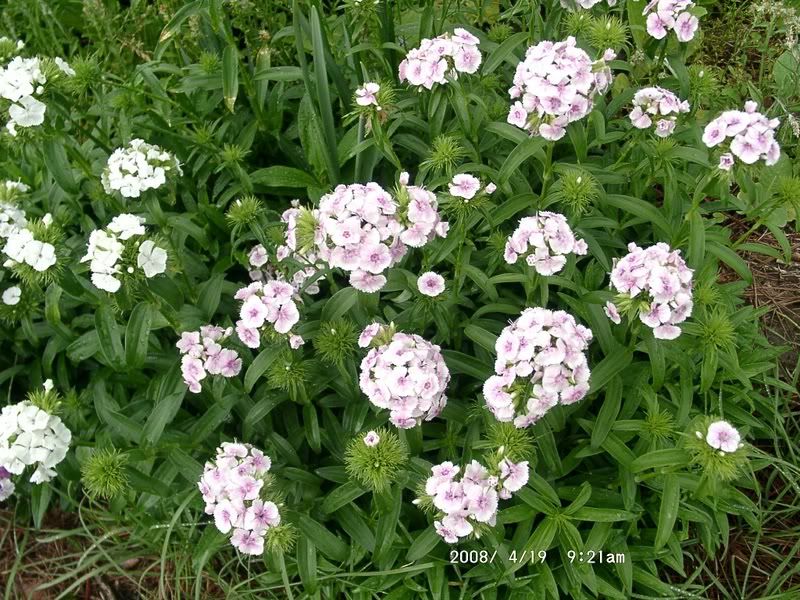 Bath's Pinks are in bloom. I'm seeing Sweet William dianthus opening here and there, mostly palest pink to white, and one clump of dark red. I think I have more seed, need to make a line of seedlings around the pink beds.
Now that the soil is damp again, there are rooted cuttings to plant out. I planted three Pineapple Sage just before it rained. I'm finding wax begonias that survived the winter.
The tornado watch was just extended into the evening. There was a cell of possible tornado activity just across the state line in Florida this afternoon. Some trees are down. We've had a total of one and a half inches of rain today. Weather people are predicting a little more rain.