Rosalind Creasy's book,
Edible Landscaping
was awarded to a lucky reader of
Simply Susans' blog
--ME! It came in yesterday's mail. There was no requirement that I have to review the book, or even mention it. I must tell you about it.
The cover has photos of red cabbages, eggplants and apples and a picture of a patio garden with bowls of red tomatoes in a setting of both edibles and ornamental plants, inviting a look inside.
Cabbages from my neighbor's garden.
Real cabbages are as beautiful as ornamental ones for a late winter garden.
I'm already planning to plant red mustard with foxtail fern and alyssum as
illustrated in the book. All I need are the mustard seeds before autumn.
This is not a small book. Four hundred large pages of information and photos inspire. I'm already planning how I can reconstruct my herb garden, enlarge my okra bed into a potager and landscape around my pear trees.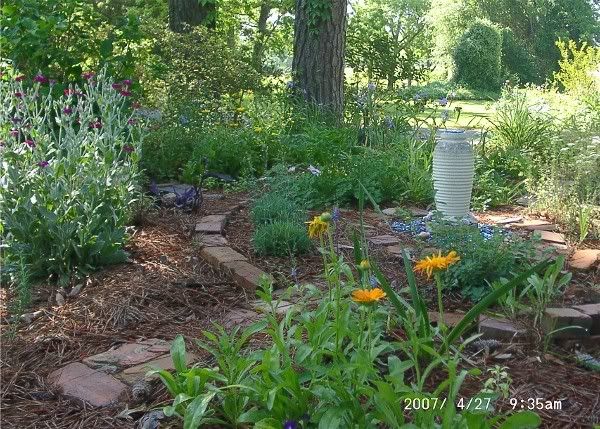 My herb garden with calendula, oregano, rosemary and thyme.
It can be so much more with some additions and renovation.
Red Onions
The second half of the book is an Encyclopedia of Edibles
followed by a Big List of Edible Plants.
Recent pic of pears in my garden.
Ms. Creasy's book not only discusses varieties of pears and how to grow them
she tells how to use them in the kitchen and how to place them in the landscape.
Okra was included in the book.
She did not rave about it the way I would have.
We had fried okra for dinner last evening, and baked zuchinni.
My plants need a more decorative setting besides
the makeshift fence for keeping out the cat and dog.
Hidden Ginger, Shell Ginger, variegated Alpinia and Cardamon Ginger at lower edge.
My gingers do not include Zingiber. The Ginger Garden will definitely need updating
Pineapple Pear
I've been reading Rosalind Creasy's work for years. I still treasure her article from Country Living Gardens of 16 years ago, A Storybook Garden, visited by Alice in Wonderland and her friends. The Alice Garden featured vegetables and herbs as well as the expected maze and teahouse. The nearest I came to an Alice Garden was red roses, white roses and a cement rabbit. This latest book holds the same enchantment.
Red Cascade
Thank you, Susan, for this wonderful book.
I wish everybody could have one.
It would definitely be an investment that will
return a good dividend in Landscape Edibles.
Flowers and text are from the garden of Nell Jean blogged on
Dotty Plants Journal
in hot, humid Southwest Georgia.