Ike the Cat followed me around the garden. I heard Mockingbirds scolding. I couldn't see Ike, but I saw Black eyed Susans waving. Ike was hiding while he chewed a bit of Lemon Grass.
Cymbopogon
is a fav of both the cat and dog. I pot up a clump for the greenhouse and they chew it all winter.
Lemon Grass is a fav of mine, too. I've had a hard time
taking to grasses. Cymbopogon makes a pretty bluish clump.
Julia Child is my fav Floribunda.
Another look at Julia
I moved two Mariesii Hydrangeas at the beginning of summer. What I thought was a shady spot got middday and early afternoon sun. Despite copious watering, they dried up and died. I had a backup plan. I've killed these before when I moved the first cuttings that had rooted so well when I stuck them in the ground. I took cuttings again. These have put on new growth. Now to make a plan for keeping them alive through the winter. When they reach blooming size, they have blue lacecap blossoms.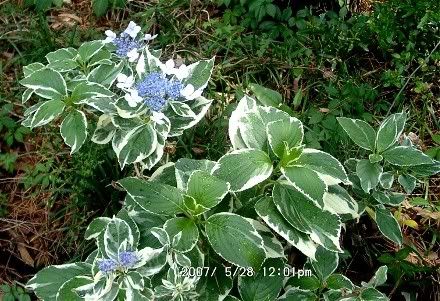 Mariesii in a previous year, cutting grown
Flowers and text are from the garden of Nell Jean blogged on
Dotty Plants Journal
in hot, humid Southwest Georgia.