For one thing, you can't force a bulb. You can sometimes trick it into thinking it's time to bloom.
Delft Blue, chilled and potted to bloom for Christmas, 2011.
When I compared the results of bulbs in water and stones with those in soil, I decided to plant in soil in the future, after years of planting in stones. The foliage is bigger and in most cases the bloom was larger and fuller. The pinks seemed not to mind being in water and stones and all had good results.
China Pink is my fav pink for forcing and Pink Pearl is my fav to plant directly in the garden.
A bulb in soil does not have to use all its energy producing a blossom, drawing from the soil. Of course this year's bloom was formed by last year's foliage but nutrients are available at all times for forming foliage when planted in soil.
It takes care, but bulbs forced in water can be carefully pulled from the stones and planted out to bloom again. Sometimes they skip a year's bloom. Those in soil are easily planted out. Successful garden bloom depends on having some winter chill.
I must admit, hyacinth vases full of roots in the bottom part are
interesting in winter when everything is bare outside.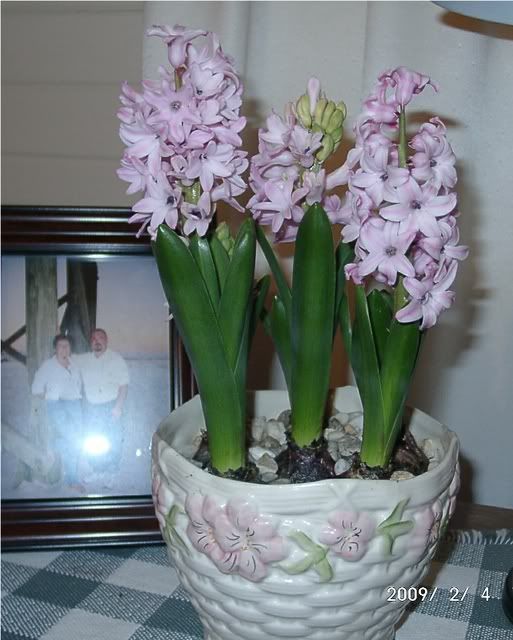 China Pink
I used to put plants and bulbs I was forcing in the utility room
before I had a greenhouse. This particular year I used several
ceramic vases with narrow necks instead of hyacinth vases.
Bulbs may be purchased already prepared or given a cold period, which is what I do. I prechill my bulbs for up to 12 weeks and then plant or place in stones and water.
Here are instructions from Royal Horticultural Society for forcing hyacinths (and Hippeastrum) for Christmas bloom.
http://apps.rhs.org.uk/advicesearch/profile.aspx?pid=102
North Carolina State Hort site not only tells how to prepare and force bulbs but gives a chart with cultivars they trialed.
http://www.ces.ncsu.edu/hil/hil-8507.html
Cultivars that I've planted that are not included on NCSU's list are Gypsy Queen -- an orangy pink, City of Haarlem -- a pale yellow, and Top Hit -- a lavender.
Blue Jacket in single pots; bigger pots have mutiple Gypsy Queen bulbs.
My hyacinths this year are very late. As a matter of fact, there are hyacinths starting to bloom in the garden while the 'forced' hyacinths are just showing buds on a few. Blue Jacket has some buds. Gypsy Queen has not yet brought forth buds and was later putting up little green tips.
Maybe next fall I'll just buy Amaryllis bulbs.