You cannot force a bulb to do anything, but you can trick it into thinking it might be time to bloom.
In previous years I've purchased Narcissus and used to put them in water and stones the way Mama did 50 years ago. I've outgrown forcing anything in water, a cruel trick that leaves water roots that fail to nourish a bulb that may be planted out in the garden after bloom if there are good roots to support it.
Tazetta Narcissus in the Garden:
This summer our neighbor, Farmer John brought me a half bushel of Narcissus bulbs that have grown for decades in his yard. Remember that this is a warm climate.
Yesterday I went to the greenhouse and potted up groups of 4 and 5 in pots.
I found a pot that will fit in this tin cache pot from my late friend Burt.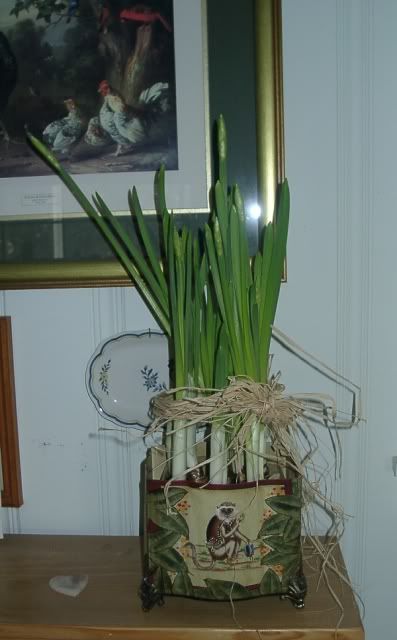 The monkey tin held paperwhites in 2009.
2011
I don't know about my timing, Paperwhites may not bloom in time for Christmas, which matters little because we need blossoms throughout Winter.
I've been reckless about planning and planting bulbs this year. No telling when I'll see Amaryllis again, but there are pots in various stages of resting. I haven't looked to see what is going on in pots of hyacinth bulbs in a refrigerator; they are on their own until Christmas.